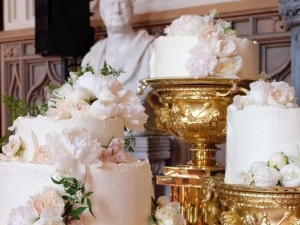 The English royal wedding cake
9 November, 2021
The tradition of Great Britain is fascinating and particular. The films of 21 century that tell us about typical British weddings are evidence of this. According to tradition, a groom is waiting for the Bride in front of the altar room before the Bride will arrive accompanied by her Dad under the romantic melody. It is essential to have the melody with a live performance.
It is rarely known that Great Britain first had this tradition to have a white dress on Bride during weddings. Queen Victoria was the first woman who brought this tradition to British culture. During her wedding with Prince Albert, she wore a white dress. Before the crown brides of Great Britain were preferring to wear a red and white dress decorated with silvery. In 19 century the white dress was introduced as a big tradition having a symbol of innocence.
The other special part of this whole protocol was the English royal wedding cake which is a one-of-a-kind fruit cake. It requires a huge consistency of dried fruit: sultanas, prunes, cherries, walnuts, etc., and after baking, they are dipped in rum and brandy every day. It is prepared a month before the celebration and can be stored for decades.
Part of the top layer of the cake is called 'christening cake', pieces of which are kept in special sealed boxes until the christening of the firstborn. William and Kate, for example, kept the top two layers of their wedding cake.
There is another tradition in the British royal family․ One of the pieces of wedding cake is offered for sale at auction (pieces of Charles and Diana's cake are still sold at auction).
Prince Harry և Meghan Markley's wedding cake was different from the traditional royal cake. They opted for two single-layer and one double-layer tortilla, which were placed on gold trays. They broke tradition: instead of a fruit cake, their wedding cake was a sponge cake with lemon and syrup. They entrusted the task to Claire Ptak, owner of Violet Bakery in London, who baked a unique wedding cake for the couple using 150 and cream fresh flowers, including British peony-shaped roses.
The cake was made using 200 scones, 500 eggs, 20 kg of butter, 20 kg of flour, the same amount of sugar, and 10 bottles of Oshinder syrup.
The cake was prepared by 25 chefs together with the chef of the royal family.
Unlike the slightly more modest cake of the Duke and Duchess of Cambridge, Prince Kate Middleton chose a lavish and colorful traditional fruit cake, 3 meters high and weighing 220 pounds. The cake was decorated with a creamy, white frosting consisting of eight layers, containing over 900 handmade details and a huge assortment of florals. The cake was made by pastry chef Fiona Cairns, which took five weeks to make.
Interestingly, the decoration of the center layers of the cake matches that of Buckingham Palace Art Gallery, where the cake was first displayed before the wedding. A large number of flowers on the cake was due to a special 'flower language', according to which roses symbolized marital happiness, lilies of the valley - fertility, marigolds - success. William and Catherine had another wedding cake that was a favorite of William's as a child - a chocolate sponge cake.

By the way, in Cataleya you will find delicious cakes that are always fresh and unique.